Our 22 room residential accommodation is a fully accredited level 1 facility and we provide crisis as well as short and long-term accommodation.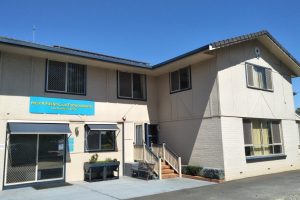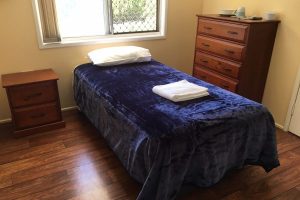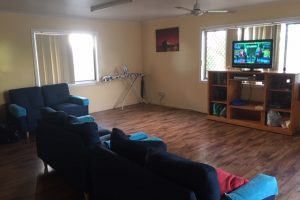 A furnished private room
Linen and bedding
Common (TV) rooms and dining areas
Equipped kitchens
Laundry facilities
Cost of utilities (electricity and water) paid by HAFC
We provide each resident with a private, lockable room with shared common areas and facilities.  The building is fully security screened with the main entrance door fitted with a combination lock for added security.  The building is fitted with a Fire Safety System compliant with current Australian Standards.
Each person is responsible for looking after their own rooms and their personal hygiene.  Residents need to supply their own food and cook their own meals and to clean up after themselves.
HAFC Accommodation is located conveniently in Anzac Avenue and is an easy 10-minute walk to Clifford Gardens and Newtown Shopping Centres.  A bus stop is located directly in front of the building with buses running into the city, to the Base Hospital and other areas of Toowoomba.
We recognise that during a resident's stay with us, they regard the accommodation as their "home" and we are committed to providing them with the best possible service.
At HAFC Accommodation, we believe that by providing a safe, stable and clean environment, our staff can help promote the personal growth of our residents.
While our primary focus is on accommodation, we are in a position to help link people to other organisations to assist them with their everyday needs as well as specialist needs – budgeting, personal hygiene and health, food assistance programmes, mental health, private accommodation and job seeking.  There are many dedicated agencies in Toowoomba that can assist people looking for help.
Many of our residents are supported by other organisations which visit the premises regularly.
The benefit of operating a Level 1 facility is that it gives people the opportunity to use as well as improve on their day-to-day life skills in a home-styled environment, whilst providing assistance if needed.